Bio
Pictrola's members first played together as a group at the Delfest Academy 2017. The band strives to incorporate modern themes into traditional bluegrass, bringing elements from blues, swing, jazz, and rock into unique covers and originals.
Josh Ungar: Mandolin
Mike Shade: Guitar
Evan Sands: Banjo
Dan Henderson: Fiddle
Taylor Gerber: Bass
Josh Ungar, born and raised in the DC metro area, plays mandolin and bass as well as singing lead and backup vocals. Josh has performed in multiple bluegrass, Americana, and rock bands. Josh was a founding member of the Porch Pickers Brigade, Split String Soup, Brandy Station Company and Pictrola. Josh currently works for the McCoury's as an assistant for the Delfest Academy, continuing this tradition for the last 9 years. In 2010 Josh placed 3rd in the Watermelon Park Festival mandolin picking competition.
Mike Shade is an enthusiastic new convert to the bluegrass tradition. With more than 20 years experience playing swing, jazz, blues, funk, and rock guitar, he brings a wide gamut of styles and influences. Most recently the lead guitarist for DC's Magnolia Blue, a New-Orleans-style funk group, he picks guitar and the occasional dobro for Pictrola.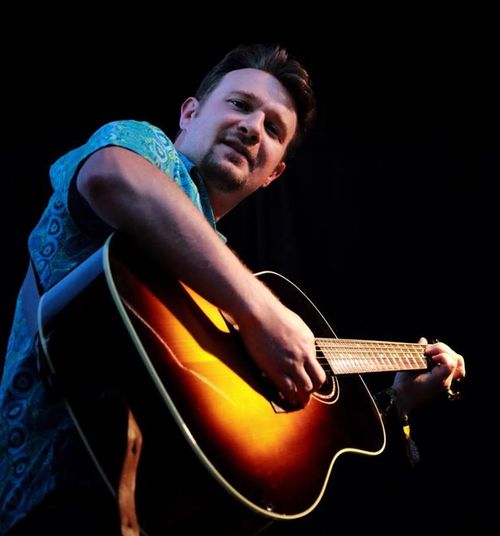 Born and raised in Tennessee, Evan Sands started playing banjo and guitar at 13. Steeped in the traditional sounds of Scruggs and Ralph Stanley, Evan also grew up listening to, and trying to steal licks from, guitar giants Chet Atkins and Jerry Reed, as well as progressive banjoists like Bela Fleck and Bill Keith. Thus it was natural to branch out into classical, jazz, rock, and ragtime, which serves him well in session work with a number of studio projects. In addition to banjo, Evan also contributes original songs and interesting arrangements of classic tunes to Pictrola.
Dan Henderson studied classical violin from age 6 to 21, playing in top youth orchestras in Boston and touring internationally to Japan and Spain. During this time Dan performed with some musical greats including Leonard Bernstein, Yo-Yo Ma, John Williams, and Bobby McFerrin. Dan graduated from Oberlin College where he was the only non-conservatory student invited to play in the orchestra his freshman year. In the late 1990's Dan discovered Bluegrass and fell in love. In 2015 at Delfest academy Dan was instructed by celebrated fiddler Jason Carter of the Del McCoury Band and finally "got it" - he put away the sheet music, learned to play by ear, and got completely obsessed with becoming a fiddler in a singing bluegrass band. 
Taylor Gerber plays upright and electric bass, and currently lives in Alexandria, Virginia. He studied music and business at Vanderbilt University in Nashville, where he first discovered bluegrass. He has studied and played various styles of music, ranging from bluegrass to jazz to classical to soul, and just about everything in between. A couple of notable performances have been with Ricky Skaggs at Strathmore Music Hall, with Sanjay Mishra at Blues Alley, and more. Taylor's basses of choice include an Engelhardt (upright), and a Fender Precision (electric).